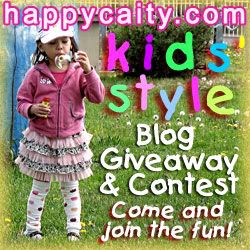 Happycaity.com recently launched Kids'Style meme and with the positive feedback they received, they are announcing it's first major Blog Giveaway and Contest as a way of welcoming their future participants.
Awesome prizes that you might win are follows:
1st prize = $50 Paypal credits
2nd prize = $30 Paypal credits
3rd prize = $20 Paypal credits
4th prize = 1 month ad space @ The Jagged Barn
5th prize = 1 month ad link @ Ideas n Pink
Generous sponsors to this contests are:
Rainydazeee
Happy Steps Travel Blog
Pastel Corner
The Wonderlusts
Benedique
Doodles
My Tots Exactly
The Coffee Chic
Nshima Servings
The Jagged Barn
Mommy's Bright Bundles
Essential Tidbits
Ideas n Pink
Participants should have have a Paypal account, a blog, Facebook account, Twitter, and GFC to be able to join the contest.
Contest will run from November 22, 2011 to December 20, 2011. Check this giveaway
post
.