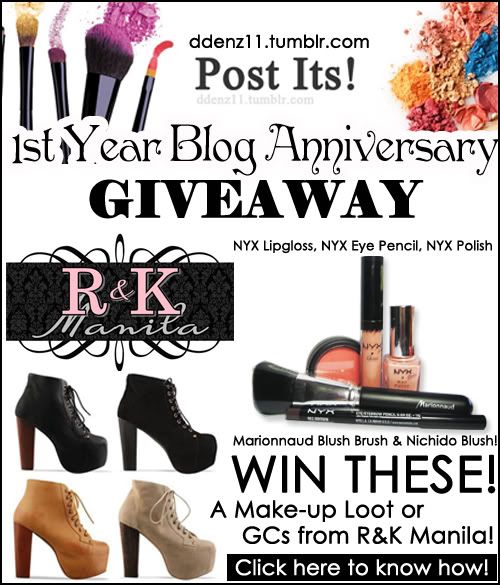 Denzyll of Post Its
! is having a blog giveaway in celebrating of her blog's monthsary and one lucky reader of her blog will win a make up loot that includes the following items:
NYX Eye Pencil in Brown, NYX Girls Nail Polish in Nude Peach, NYX Round Lipgloss in Whipped, Nichido Powder Blush in Tomato, and the Marionnaud Angled Blush Brush.
And also
R&K Manila
will be giving away
Php 250 Gift Certificates
(discount cards for shoes and bag purchase) to four other readers! Isn't it nice?
And here's more for another prize to be won if you're lucky to find the secret message hidden on her entire blog will win
a Handcuff Necklace from djaDesigns and streetchiconline. Finder's keepers.. Contest ends on May 18 and is open to Philippine residents only. Check her giveaway here.